Zero waste group: A circular economy enterprise
Remober supports you in your transition to a circular economy
Reinvent the equipment lifecycle management of your mobile devices and business tablets thanks to the corporate circular economy!
Remober supports SMEs and large companies in their circular economy performance through reuse!
In 2021, Remober will have :
reconditioned terminals sold
Linear economy vs circular economy enterprise
In contrast to our traditional linear model of "produce, consume, throw away", the concept of the corporate circular economy invites us to change our perspective and do more with less by anticipating the environmental impact assessment and societal impacts of each stage in the life cycle of a business smartphone or a corporate computer.
The aim? To form a loop to optimise resource management and reduce waste production.
Adopting a circular economy waste management vision means rethinking consumption patterns and creating positive value throughout the life cycle of your equipment, from its design, manufacture and use to its destruction.
Remober supports you in the circular management of your mobile fleet in several ways:
In order to enhance your reuse initiatives, Remober will provide you with a detailed statement of the eco-benefits of your mobile fleet maintenance operations, purchase of reconditioned smartphones or computer fleet takeovers, on request.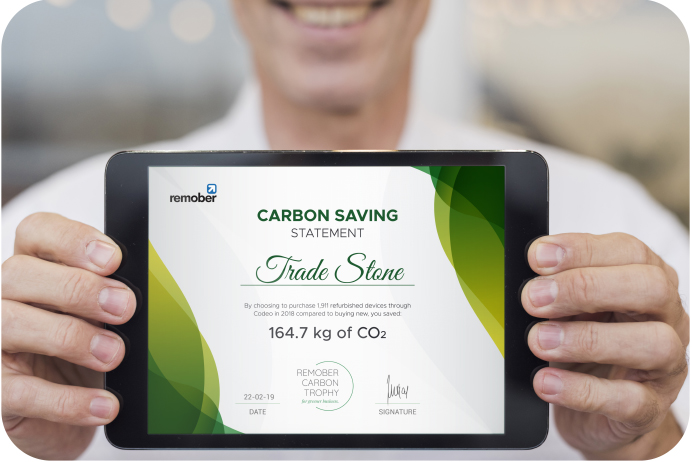 Involve your employees and make them aware of the circular economy!
Your employees are at the heart of your business strategy, especially in terms of IT project management. How about turning them into ambassadors for your ecological transition? Thanks to fun and collaborative incentives, Remober involves and raises awareness among your teams about the impact of electronic consumption and the circular economy.
Remober committed to reuse…
For several years now, Remober has been committed to improving and standardising professional IT equipment reuse practices in order to establish market rules, promote "Made in France" reuse and define a quality reference system! To do this, we are involved in a professional union that is a reference in the market:
Since 2017, we have joined the Syndicat which are professionals in reconditioning, regenerating IT equipments, electronics and telecom (SIRRMIET), which is actively working for legal changes in favour of the circular economy and the reduction of WEEE through re-use.
...and for IT equipment recycling
Remober has surrounded itself with trusted partners to recycle equipment that cannot be reused, in compliance with European waste treatment and data protection standards.
Processing and recycling of WEEE waste.
e waste recycling of chemicals, such as batteries.
Specialised in the extraction and refining of rare and precious metals
Our experts are at your service!